GlycoScience of CellularBiophysics
 
Dr. Heike Böhm, Gruppenleiterin
Our cells expend a significant amount of energy producing large sugars like glycosaminoglycans (GAGs), but have you ever wondered why?
Glycosaminoglycan interactions play a crucial role in regulating cellular behavior and function, yet many questions remain about the impact of these weak, multivalent interactions. That's where our research comes in. We're taking a cross-disciplinary approach, combining chemistry, biophysics, and materials science, to unlock the secrets of GAG interactions. By designing novel interfaces, we're enhancing cellular interactions and gaining new insights into the complexities of GAG interactions.
As a researcher, I pursue two main goals: (1) to advance our knowledge of the role of glycosaminoglycan interactions in regulating cellular behavior and function, and (2) to foster a collaborative and cross-disciplinary environment for education and collaboration among students and researchers. Our lab's innovative approach to glycoscience is driven by these two goals, resulting in exciting and meaningful scientific exploration, discussions and insights.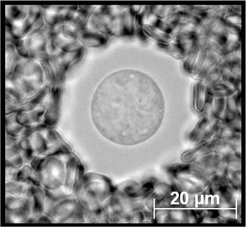 I was first drawn to the world of GAGs when I captured this microscopy image in 2005. It showed a chondrocyte cell surrounded by a pericellular coat (PCC) consisting mainly of water, but acting as a barrier to particles approaching the cell membrane. The dominant GAG in the PCC is the highly hydrated hyaluronan, attached to the cell surface through multiple weak interactions with specific receptors.
Throughout my career, I've pursued a diverse range of research interests, however, my ongoing fascination with glycosaminoglycans (GAGs) and their impact on cellular behavior and function remains a constant theme. If you'd like to learn more about my work, I invite you to explore my complete list of publications.
After successfully completing my habilitation, I had the unique opportunity to pursue my passion for creating a scientific learning environment by helping to build the new Max Planck School Matter to Life from the ground up. I served as the main scientific coordinator and Executive Board member, turning a proposal into a fully-functioning school. Now, I am eager to refocus more strongly on research and research-related teaching. I am in the process of establishing a new group and am excited to continue exploring the fascinating world of glycosaminoglycans and sharing my passion and knowledge with students and fellow scientists.
Teaching:
I am dedicated to helping students grow their knowledge and research skills. As part of my commitment, I participate in the Welcome Course for new Matter to Life students each autumn and teach a GlycoSciences seminar each summer semester at the University Heidelberg (see LSF for more details).
Uncover the mysteries of the sugar world with our exciting GlycoSeminar! Join us each summer semester as we delve into the multidisciplinary field of sugars research. In our first meeting, we will choose a specific research question to explore and learn about the latest developments in the field. Not only will you expand your knowledge, but you will also have the opportunity to hone your research skills and engage with others in the supportive environment of the seminar. Get ready to formulate research questions and design different parts of a research proposal. Register now for a chance to grow your expertise in Glyco-Sciences!
In previous years, students of this course have turned their essays from the seminar into published reviews. See our Reviews (also here) to get a sense of the type of work that can come out of the seminar. Please note that not every year will result in a review - this will depend on both student and instructor availability for the additional time commitment after the seminar.