"Forces are everywhere around us, and we couldn't function without them."
Ada Cavalcanti-Adam, departmental group leader and head of the scientific core facility for cellular biotechnology, on her story in life sciences - an interview.
What first got you interested in science?
I actually have a clinical background, and working full time as a dentist for 3 years in Italy made me curious about how the human body works. The possibility of getting teeth to move by applying force to them was especially fascinating to me. How can one trigger certain responses in our bodies with force?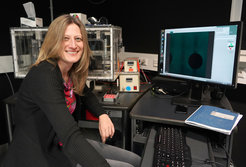 Where did you train and what did you train in?
I got my first degree in Italy, and while working as a dentist I also became a specialist in orthodontics. Growing up as a woman in southern Italy 20 years ago, studying was a brave thing to do! That is why I chose a profession that would earn me a safe living. But after looking as a dentist at the application of forces to teeth at the macroscopic level for several years, I became interested in the molecular processes involved. That was why I moved to the USA to pursue a master's in biology with an emphasis on biochemistry. I was there for 4 years before I came to Heidelberg to do my PhD with Prof. Elisabeth Pollerberg at the Centre for Organismal Studies.
How did you get interested in your particular research topic?
I wanted to follow the link with my past and focus on forces and the responses they could trigger within cells. Many of the factors we studied in the lab during my master's and PhD were already being used in clinics to regenerate tissues, but we actually started investigating how they could regulate adhesion and migration of cells. I am still looking at these processes now, but from a different angle. My focus today is on the chemically driven aspects of force application and generation. There are obvious factors such as adhesion molecules, and then there are less obvious and often surprising components such as growth factors. These can induce many force-related reactions in cells.
Your research: simple and in a nutshell?
How chemical signals which are around the cells are converted into forces!
What is so fascinating about that topic?
Forces are everywhere around us, and we couldn't function without them. They act in all size scales in life. The balance of forces and mechanical regulation in tissues are also relevant in preserving function of tissues and in diseases, perturbation in just one component can then influence many further life-processes. Cancer is only one example. Cancer cells regularly alter the tissue around them, e.g. the stiffness, and are able to adjust their force-generating machineries to survive and migrate.
What does a day in the life of you as a researcher look like?
Nowadays it is mostly deskwork for me. I read and write articles, prepare presentations or have meetings with colleagues. Supervising and meeting with students is a big part of my day, too. However, I still keep some time for lab work, especially imaging at the microscope and I am also a big fan of Westerns Blots!

What do you like most about our institute? Why did you choose the MPI and Heidelberg for your career path?
The freedom to do different projects, even ones that seem to involve crazy ideas that you can just try. And also the availability of many different instruments, which I appreciate. Working at the MPI for Medical Research also closes the circle to my past as a clinician. I feel as though I'm coming back to the aspect of how forces affect our body, after a detour into the world of chemistry and material science. The scientific environment in Heidelberg is special as well, and I appreciate all the interactions with other scientists on and around the campus.
What would be your advice to young researchers starting out in your field?
Be patient and stay focused on the big picture. Don't get lost in details. Keep your passion alive by reading and attending meetings. Don't get isolated and scared. Don't get scared about being multidisciplinary. To be an expert in your field, you need to know what other fields there are.
What would be your advice to other women starting in research?
Science has no gender, but I feel that is more difficult for women to cope with family and deal with the expectations from society and work. It is best to talk to other women and look for role models. You'll find that the problems are often the same, and you can learn from their experience.
What do you feel science should achieve for society?
Science should be accessible to everyone. We should work harder to connect better to schools and to non-scientists, and take an active part in educating students.
What would people be surprised to find out about you?
I am a big soccer fan! Back in Italy, my room was covered in posters of my favorite team, and on Sundays I went regularly to watch games at the soccer stadium. The craziest thing I did was to travel 1200 Km by train to watch a game… unfortunately my team lost. I especially enjoy the folkloristic part before the games.