"Get out of your bubble!"
Elisa D'Este, head of the scientific core facility for optical microscopy on her story in life sciences - an interview.
What first got you interested in science?
There was no 'Aha!' moment. I come from a family that has quite a strong scientific background, with my mom being a physicist and math teacher, my dad an engineer and my sister a chemist. Biology was somehow missing in the mix. I have always been curious and I love to be in nature, observing something and trying to understand why something happens. It was also partly chance: I once read a leaflet on biotechnology and was so fascinated that I wanted to study it.
Where did you train and what did you train in?
At the University of Trieste in Italy, which is also in the region of my hometown. I did my Bachelor's in Biotechnology, my Master's in Medical Biotechnology with a focus on Nanobiotechnology and finally my PhD in Nanotechnology. It was a slow move from bio to nano. During my postdoc in Göttingen at the MPI for Biophysical Chemistry, I kind of took a step back towards biology again to get where I am at now. Biology at the nanoscale.
How did you get interested in your particular research topic?
By the flow of events. I found molecular oncology boring and western blots or PCRs did not give me that much satisfaction. On the other hand I love seeing things, I have a good visual memory and neurons are just beautiful to image! Then, actually thanks to a collaboration with Kai Johnsson who was at the time still at EPFL, I found my way into neuroscience. With the tools developed by his team, we managed to visualize a very peculiar organization of the neuronal cytoskeleton for the first time in living cells. Afterwards, I kept working on that.
Your research: simple and in a nutshell?
How and why is the cytoskeleton, the structure that sustains the neurons, organized at the molecular level and what are the consequences of such a perfect structure for other functions of the cell.
What is so fascinating about that topic?
How evolution managed to design such a complex but tightly organized structure. One could take a ruler to the cells and everything would be perfectly aligned. In addition, neurons themselves are very fascinating cells.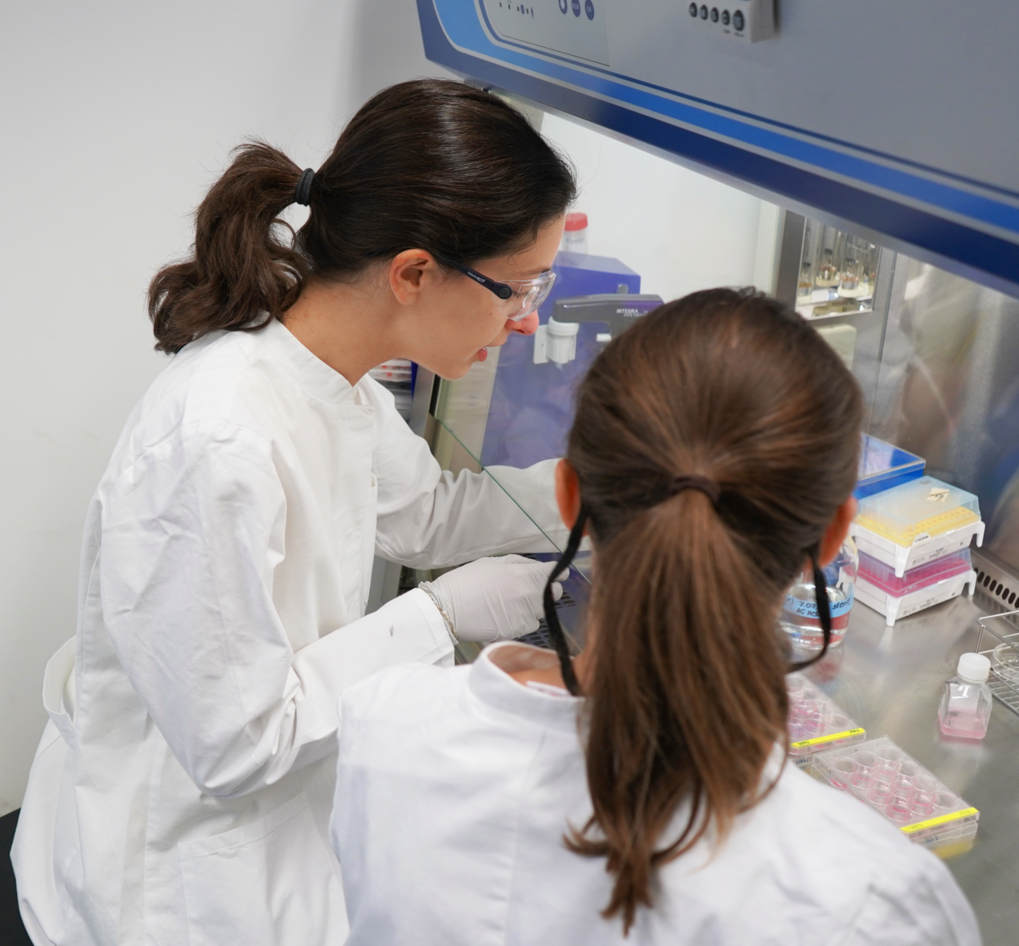 What does a day in your life as a researcher look like?
I start every day with a coffee, while discussing with other lab members, students and colleagues. It is a moment for brainstorming, talking about new papers, experiments or ideas. During the day, I take care of the microscope, supervise the students and discuss projects with the users of the facility. My door is always open so there is a constant flow of people and I enjoy the interaction a lot. Unfortunately, a lot of time also goes into paperwork and at the end of the day, when things get quieter, I work on my projects.
What do you like most about our institute? Why did you choose the MPI and Heidelberg for your career path?
The interaction with the other departments and the challenge of setting up new things. The possibility of literally building something new and seeing it grow. This is true not only for the facility but also for the whole institute. There is a spirit of community and working together on new and exciting things.
What would be your advice to young researchers starting out in your field?
Get out of your bubble! Scientifically this means, e.g., looking into other fields of research. The thing I didn't think I would like, I ended up liking the most. Get out of your comfort zone. However, you should also get out of the "science-bubble" on a more professional level.
What would be your advice to other women starting in research?
Believe in yourself and be self-confident. Don't be reluctant to highlight your strengths!
What do you feel science should achieve for society?
Science should improve our lives and we should reach out and communicate our science to society. We need to get rid of the "ivory tower" image and talk to people. We need to prevent people such as politicians from neglecting and disregarding the huge progresses in the quality of our lives that science has made possible. We need to avoid taking steps back by discrediting scientific achievements.
What would people be surprised to find out about you?
No matter what happens, don't touch my week of holidays on the Dolomites at Christmas time! I need it to re-charge for the New Year.