Prof. Daniel Müller becomes External Scientific Member of the MPI for Medical Research
Renowned professor of biophysics at the ETH Zurich to support the reorientation of the institute
The Max Planck Society has appointed a renowned expert in the area of bionanotechnology, Prof. Daniel Müller, as an additional External Scientific Member of the Max Planck Institute for Medical Research in Heidelberg.  Daniel Müller is a professor of biophysics at the ETH in Zürich. He will strengthen the current restructuring of the Heidelberg institute that began in 2016 with the appointment of three new directors. The main focus of the institute's research is now on following and influencing the interactions between macromolecules in living cells.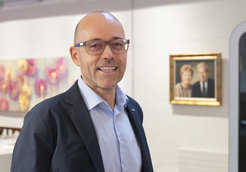 These interactions are basic to all forms of life, and understanding and measuring them is a central task of modern biology. The group of Daniel Müller works to develop bionanotechnological methods for quantifying such interactions, for example, how single receptors of living cells react to and propagate signals: how the cells communicate with each other. Other nanotechnological methods used by Müller and his colleagues address central properties of animal cells, such as growth, division and adhesion to neighboring structures.
Daniel Müller is currently professor of biophysics at the ETH in Zürich and co-director of the Swiss National Competence Center of Research (NCCR) for 'Molecular Systems Engineering' at Basel, where he also leads the ETH's Department of Biosystems Science and Engineering. He is already associated with the MPS as a member of the Scientific Advisory Board of the 'MaxSynBio' research network. He is also a member of the jury of the current architectural design competition for the new building at MPI for Medical Research in Heidelberg and is involved in the physical reorganization of the institute.